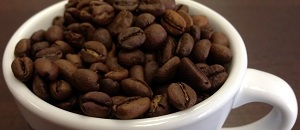 This morning I received a bag of Ethiopian Single Origin Beans from Limini Coffee (www.liminicoffee.co.uk) based in Bradford, UK.
I am a great fan of their Brazil Single Origin beans, so much so that I buy a couple of kilogrammes at a time, which is about as much as I can get through before they are starting to deteriorate.  They are at their optimum about 2 weeks after roasting.
Anyway, back to the tasting of the Ethiopian beans.  The extraction was very dark, moving to blond fairly quickly, so the shot was completed in pretty short time (about 16 seconds).
I made a cappuccino with full fat milk, as I find this makes a smoother drink.  No need for sugar as there were delicate sweet flavours present anyway.
The limini notes describe the coffee as "Dark chocolate with earthy meaty notes.
Body 4/5 – Sweetness 2/5 – Acidity 2/5".
I found it smooth, quite mellow, with a long aftertaste, but one which was not the most pleasant.  The roast was only three days ago (all the bags are labelled with the roasting date), so I suspect that the beans have not fully degassed yet.
I will return to this coffee in a few days, once I have perfected the grind and the beans have had a chance to fully degas.
Bags of this bean are available in 250g (£3.50), 500g (£6.00) and 1kg bags (£11.00). Postage £5.50 per order.  You can see the full range at: http://www.liminicoffee.co.uk/productlist.html
I should say, I am not associated in any way with Limini Coffee, I just like their way of doing business, selling excellent coffee beans at un-inflated prices.